Spring Newsletter 2016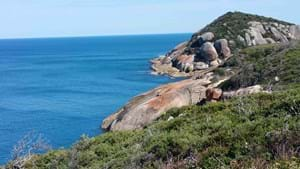 Bushwalking and Yoga Retreats
It has been a dynamic start to Spring this year as I have had the wonderful opportunity to go down to Wilson's Promontory twice. The first time for a week of bushwalking which was both challenging and restful and the second time to speak at a Yoga Retreat run by an inspirational yogi, Christiane Seletto from Yoga Keys. https://www.yogakeys.com.au/
Nature has a way of reconnecting us, calming us and helping us to see that we are more than our physical bodies.
At the retreat I explored that great yogic aphorism 'Energy Follows Thought.' We looked at the science and philosophy behind that statement and I've come back from the yoga retreat feeling re-energised, re-inspired and especially reconnected.
Connection
Connection and reconnection with the deepest part of ourselves and with other like-minded people gives us a glimpse of the highest achievable goal of meditation - the experience of Oneness. Oneness is really a sense of belonging.
Belonging means we know our place in the world even if the outer circumstances change. So that if everything is falling apart around us, we could for example, look up at the stars and still know we belong to everything that is.
In our day-to-day lives we might feel a sense of belonging in our families, or with our local golf club or our community group.
When we add to the group interaction, a higher purpose like increasing awareness of ourselves, coming together to raise money for charity or doing business with a social conscience then the connection produces something greater than the some of its parts. It gives us more energy, vitality and empowerment – and so it is in a yoga or meditation class.
It is so much easier to meditate in a group and share the experience, so I encourage all of you to come to my next meditation course. If you are used to meditating by yourself or using apps I would challenge you to come to a class. Everyone can learn something new from this course - we learn so much from each other! It will be practical and it will extend our minds and what we think we are capable of - the last one was so much fun, we didn't want it to end!
The Benefits of Bodywork
I was re-reading some interesting research on physical therapies for my talk at the retreat. Most of you will have seen my tensegrity model pictured above and would have heard me describe how forces to the body like injuries, stress and chemical toxicity which cause subluxations (vertebral joint dysfunction) in your spines gets distributed through every cell and all over the body.
So for example if you fall and hurt your knee, the forces of the injury create tension patterns throughout the whole body. It has to be that way because everything is connected.
These injuries, stresses and chemical toxicities cause cellular changes which switch off genes for healing and switch on genes for inflammation and ageing. (Remember last newsletter I spoke about epigenetics).
Exciting research shows that cells are tensegrity structures – meaning that the force distributed through them from manual therapies creates change faster than the chemical messages they receive internally - turning on health in the body.
So that bodywork like chiropractic can help to produce positive change as can yoga and other types of movement.
---
Functional Chiropractic and Wellness
155 St Georges Rd Nth Fitzroy
0437 18 38 77
Opening hours
All day Tuesday, Wednesday, Thursday
Saturday 9am - 1pm